A 100 Words story on the topic of IndiSpire: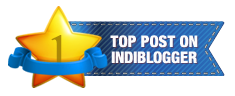 Education is not merely Stacking of Degrees but also Dressing up of one's Mind and Soul.What is Your Definition Of an Educated Person.And what is your opinion about Educated Illiterates.
Rahul Raj (B.Tech, MBA, 30 lac CTC) was on the way to office.
Weather was refreshing and traffic was very less.
He read a sign: "Speed limit 40KM, Old Age Home ahead".
"Who cares", he uttered and speed up his Audi car.
Suddenly he pushed the brakes hard, card stopped, touching slightly an old lady with a stick and cane of milk. She fell down. Milk splashed on the car.
He shouted with hatred and anger, "O! Budhiya! Dikhta nehi kya, Car ganda kar diya".
She somehow crossed the road and he flied away, abusing her.
Was he really educated??????
Linking It to: